If you want to take a French exam first check this article to know the difference between the main French tests.
I wrote in a previous article what is the TEF Canada French test. Basically, this test is very useful to assess your level in French so that it helps in the process of getting a visa or citizenship for Canada. I encourage you to take it if you plan to immigrate to Canada.
TEF Canada is different from DELF but it is still an exam where you should show how well you can master French language.
Need help to prepare your Oral Test of TCF Canada? Book a 10 lessons package to be ready!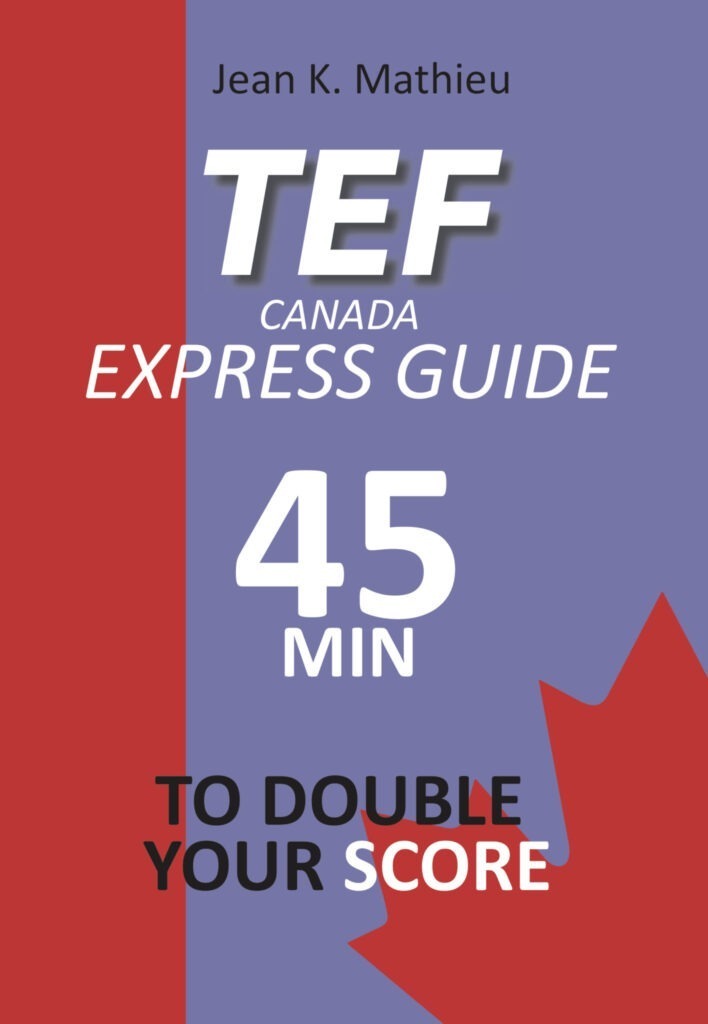 TEF CANADA EXPRESS GUIDE: 45 min to double your score
Evaluating system & admission score
How to do it: Reading test – Listening test – Writing test – Speaking test
Example sentences for speaking test section A
Example sentences for speaking test section B
Common mistakes & tips
How to work on French writing skills?
500 words of essential vocabulary for TEF
What you are asked for the TEF Canada French test
TEF Canada French test consists in four parts that you need to succeed. Compréhension écrite, Compréhension orale, Expression écrite and Expression orale. Here is the scores for each part:
Compréhension écrite : 60 minutes – 50 questions – 300 points
Compréhension orale : 40 minutes – 60 questions – 360 points
Expression écrite : 60 minutes – 2 sujets à traiter – 450 points
Expression orale : 15 minutes – 2 sujets à traiter – 450 points
Note: Oral production and oral comprehension are both required if you plan to get the Canadian citizenship.
The difference with the DELF exams, is that you will have multiple choices questions for the comprehension part (writting and listening comprehension).That is why you can also take these parts online using a computer. As for oral parts you should go to a certified center to get the interview with an examiner.
TEF Canada Compréhension Orale
It tests your ability to listen to spoken French language. It lasts 40 minutes and you will need to answer 60 questions, it is a multiple choices test but you can only select one answer. Only a correct answer will give you a point.
TEF Canada Compréhension Ecrite
It tests your ability to read and understand the written French. It is based on a written document and you have to answer 50 questions in 1 hour. It is a multiple choices test but only one answer is correct.
TEF Canada Expression Orale
This is to test your ability to speak and interact in French. There are 2 sections (A and B) which last respectively 5 and 10 minutes:
SECTION A – Obtenir des renseignements (5 minutes)
SECTION B – Argumenter pour convaincre (10 minutes)
You will be talking with an examiner who will play a role as the oral is a roleplay and not an introduction of yourself.
TEF Canada Expression Ecrite
It is to test your ability to write a proper French. You will also have 2 sections and the total time of the exam is 1 hour:
SECTION A – Écrire la suite d'un article (80 words)
SECTION B – Exprimer son point de vue et le justifier (200 words)
Note: Check this article for some tips to practice your writing skills in French for the TEF.

Is TEF Canada easy or difficult?
The TEF Canada exam requires a certain level if you really want it to be effective and useful for you (reach level 7 minimum). That is why you must be already have a certain level in French when you prepare this exam. The oral and writing comprehension is usually not to hard because it is a multiple choice test. If you practice enough dictation, and reading it must be easy enough for you to get a good score.
However the active part (expression écrite et orale), it is a bit more difficult. Written French has many rules and you need to know some grammar structures to succeed this part. The Expression orale part is also a part where you cannot fake it. You will need to interact in a daily life situation in the two sections (both formal and informal), use proper structures, address the other person the right way and be clear in the questions you have to ask (section A). Since this oral part is the most difficult (you don't have time to think, you should be spontaneous), you will need to practice and make several simulations before taking the TEF Canada Test. It can be a good idea to practice your oral French with a language partner and take some private lessons to prepare the TEF, and succeed!
Bonne chance!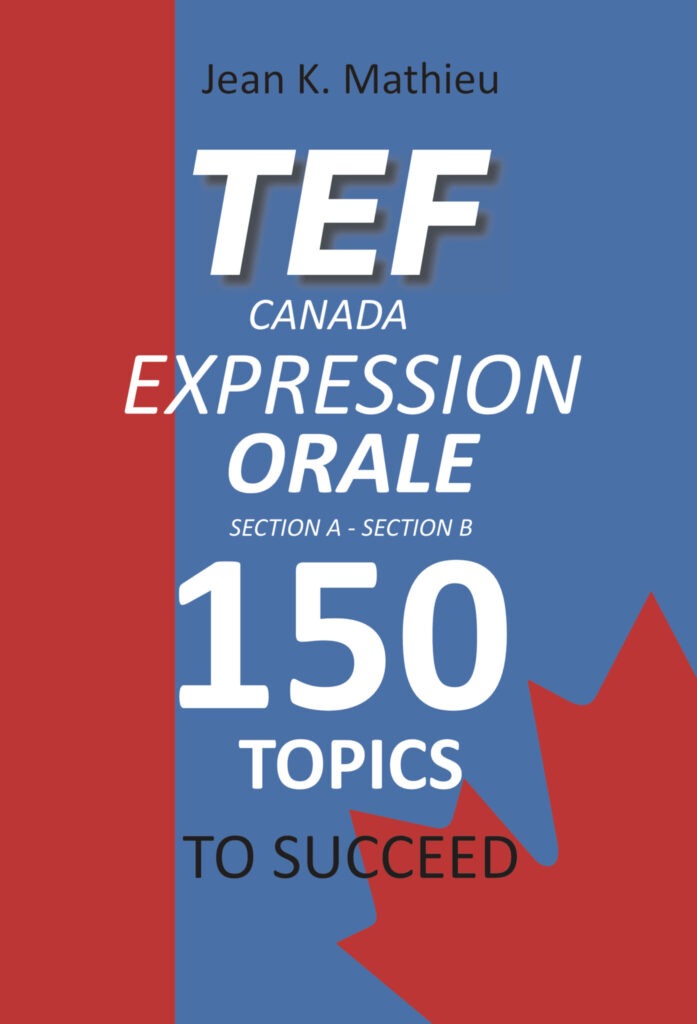 TEF CANADA Expression orale – 150 Topics to succeed
• 150 topics of TEF test for section A and section B
• Example sentences for speaking test section A + B
• How to do it for each test
• Common mistakes & tips
• Vocab list for Oral TEF test
• 500 words essential vocabulary